Welcome to
PatientsLikeMe
! Congratulations on taking charge of your health and seeking support.
Sharing information about your health is a great way to learn more about how you're doing over time. It's also a great way to let others know what you've been through and where you are on your journey as a patient.
You can track your conditions, treatments, symptoms and more by using the MY HEALTH menu at the top of any page.
We suggest adding a condition to get started, if you haven't already. This will allow us to show you other members like you on the HOME page along with other relevant content you may need.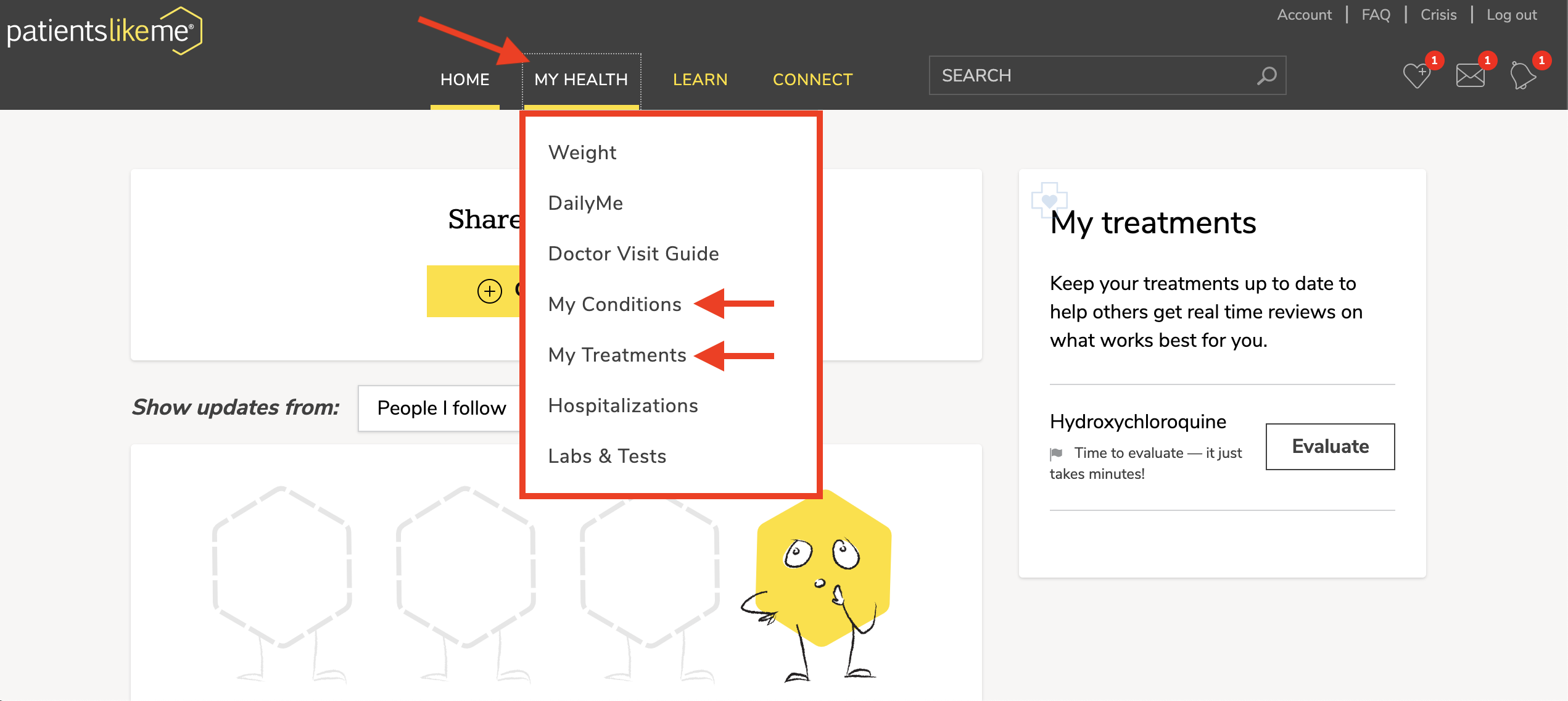 You can add and edit your conditions by clicking My Conditions. Similarly, you can click My Treatments to track how you are treating your conditions.
To make changes to a condition or a treatment you've reported, click the button with three 'dots' […]

To see a full history of a treatment that you've reported taking, click on the treatment name.
From there, you can add even more health information to your profile by taking surveys including
DailyMe
and
MonthlyMe
.
DailyMe provides a simple way to track how you feel each day. Your emoji choice and any comments you provide will show up in the newsfeed on the HOME page so other members can react to how you are feeling and show support.
MonthlyMe is an easy-to-use measurement tool that members use to track their health and wellbeing. This survey includes a short set of questions ranging from physical symptoms and sleep patterns to your outlook on life, such as feelings of connectedness and ability to participate in favorite activities each month.
We'll also ask you to evaluate your experience with your treatments from time to time, so you'll see reminder for treatment

check-ins when you click on the heart icon

.

Remember, it's important to keep track of your treatments and their effectiveness for your condition. Therefore, we recommend doing treatment evaluations on a regular basis. Keeping your treatments up to date also helps others get real time reviews on what works best for you.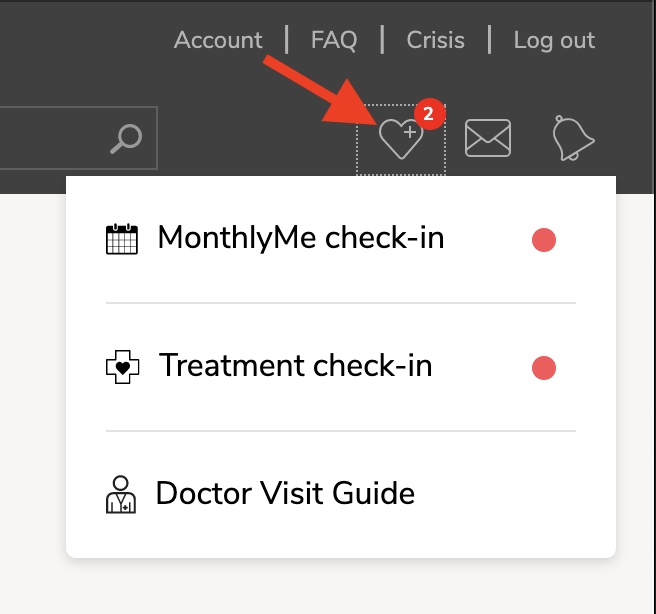 In addition, you may have specific surveys for the conditions you've added to your profile. For more information, check out the details in the My Health menu on your account.
Preparing for an upcoming doctor appointment? Check out how the Doctor Visit Guide can help.
Questions? Contact us.