You can manage your account settings at any time by clicking
Account
at the top of the page.
If you're on a mobile device, you'll find this menu via the three lines in the top left corner. From there, you have options to change privacy settings, email settings and other account information. We'll highlight a few options here.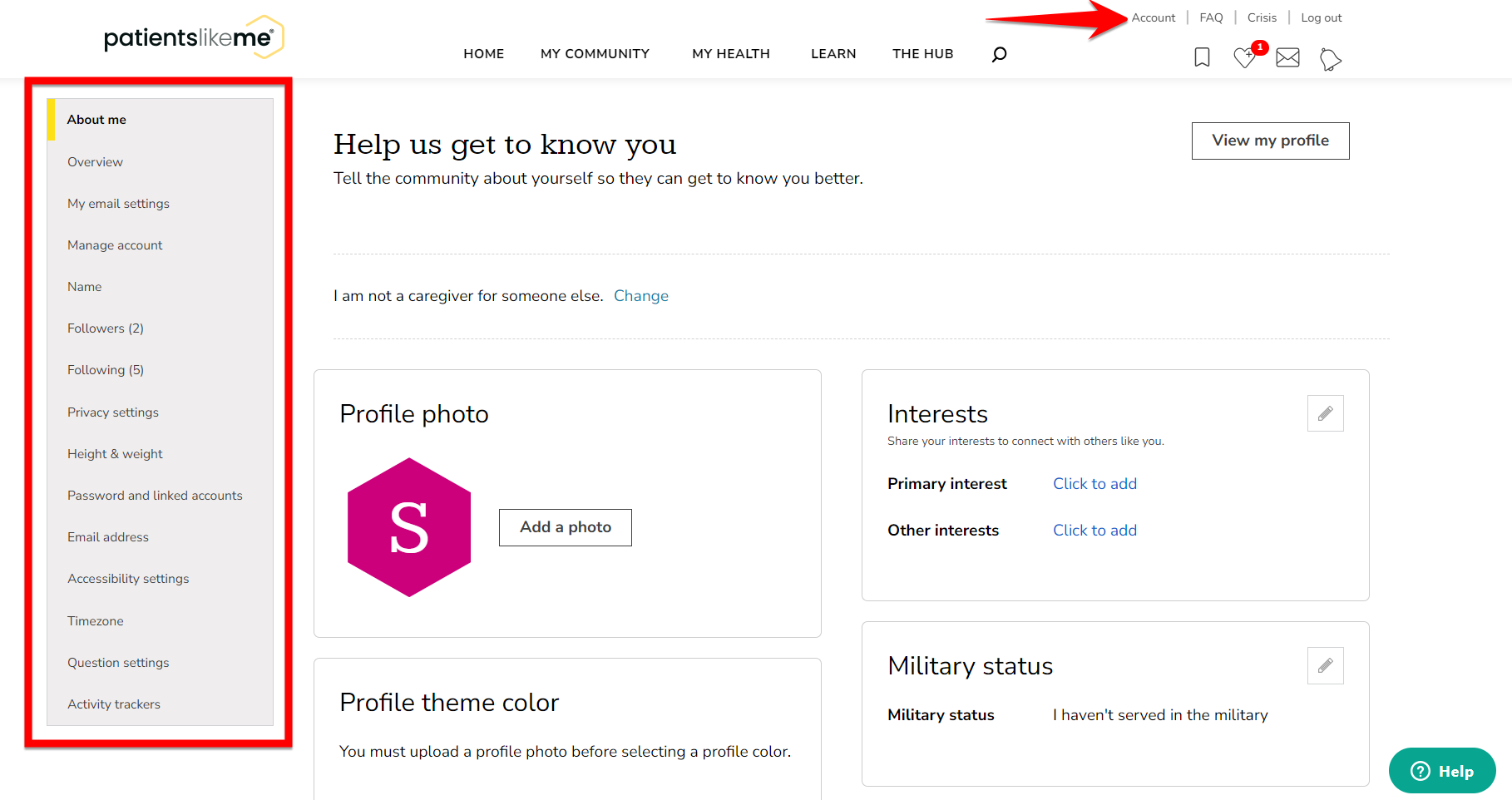 The
About
Me
section gives you the option to add more demographics to your profile, plus the option to write an introduction and a bio.
Use the 'brief bio' section to introduce yourself in a few sentences. How would you describe your medical history to another patient like you? Use the 'share your story' section to share more details. Sections can be edited by pressing the little 'pen' icon in the upper right of the box. If you are comfortable and ready to share more, you can continue to 'click to add' other info about yourself on this page.
You can change your email settings, including unsubscribing from mailings by going to
'My email settings'
in the Account menu.
Please note that when you change an email setting, it can take up to 48 hours for the adjustments to take effect. This is so our email servers have time to sync up to your preferences. Once you change a setting, you'll see a green checkmark and the reminder notice at the top of the section.
As a friendly reminder, even if you set all of the notification settings to "No", you will still receive essential communications from PatientsLikeMe via email, for instance like resetting a password, or for important company notices.
Other options in the menu can help you do anything from seeing your followers, which members you yourself are following, ability to sync to your
fitbit
,
and more.
Please note that while the ability to change your username isn't available through your account, you can ask the PatientsLikeMe community team to change your username by using the "Help" button at the bottom right of any page. We recommend that you pick a username which is not the same as your real name. Feel free to send a few suggestions along just in case one may be already taken on the site.
If you have any further questions on this menu after looking at the options, please reach out to us.
Learn more: What options do I have to control my data or close my account on PatientsLikeMe?
Questions? Contact us.