What is the PatientsLikeMe Hub?
The PatientsLikeMe Hub offers access to education, support, and practical solutions to solve some of the biggest challenges of managing a chronic condition. We have gathered together affordable products and services like at-home diagnostic kits, symptom checkers and more that can help empower patients to make more informed decisions about their health and wellbeing.
How do I take advantage of the PatientsLikeMe Hub?
Accessing The Hub is easy! Head to www.patientslikeme.com and create your PLM account or log in to your existing account. Once you are logged in, The Hub will be at the top of each page:

If you are on a mobile device, The Hub is in the main menu, indicated with an arrow below: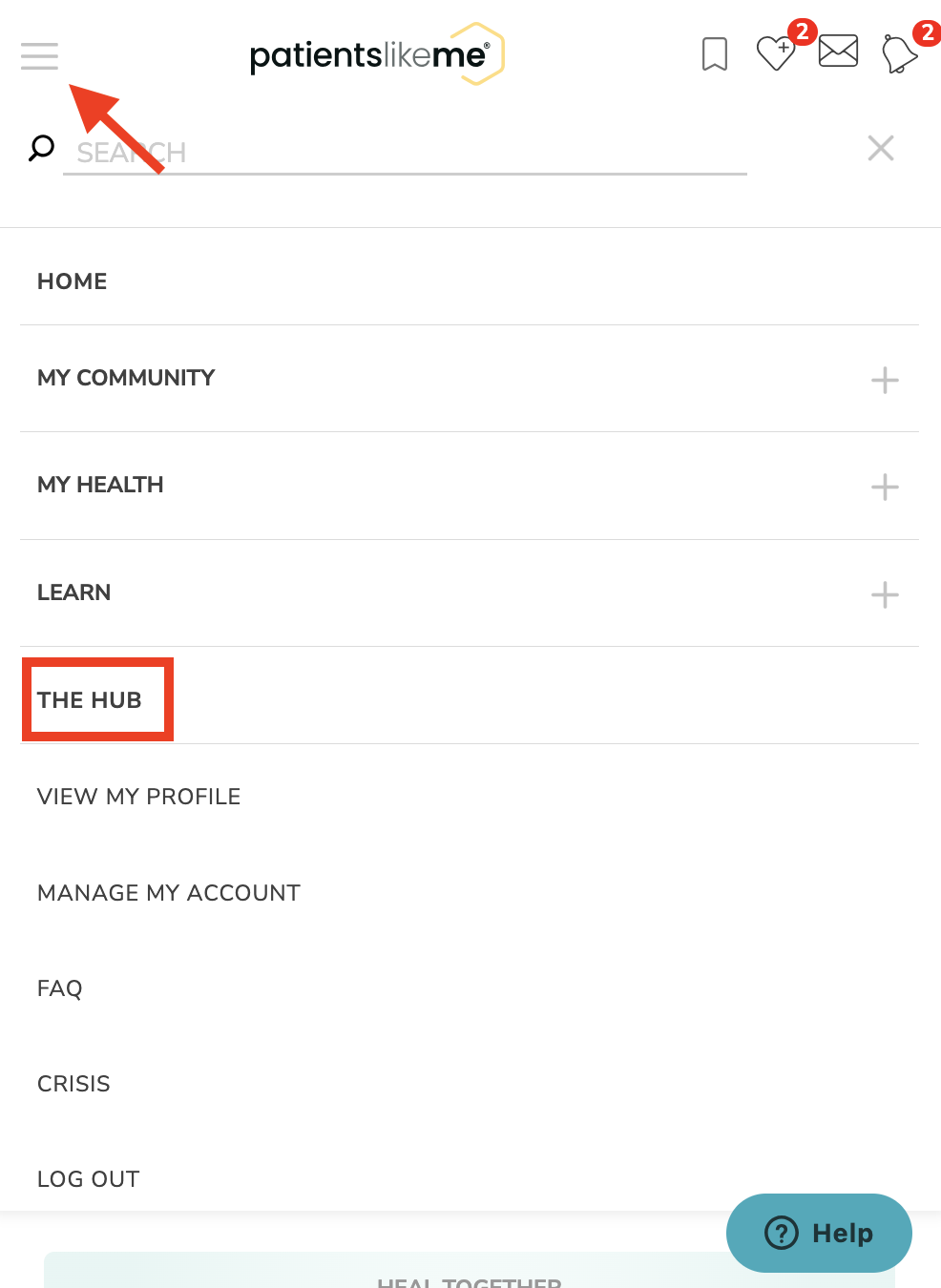 Once you are in The Hub you can browse various offers from our partners. Click on a tile that you are interested in to be taken to that product or service's website.
Am I making a purchase from PatientsLikeMe?
No. PatientsLikeMe offers discounted or free opportunities through The Hub, but we do not process any orders or accept payment from members. Any purchases you may make are made through a retailer's website.
How does PatientsLikeMe benefit from purchases made from Hub partners?
PatientsLikeMe may receive a commission or other payment if you purchase products or services from our Hub partners.
I need billing or technical support for a product or service featured in the PatientsLikeMe Hub, what should I do?
PatientsLikeMe does not process any orders or accept payment from members. This means that PatientsLikeMe cannot provide product support or billing support for any purchases. Should you need assistance, please contact the retailer or service provider directly.
Am I protected by the PatientsLikeMe Privacy Policy when accessing offers from The Hub?
No. The PatientsLikeMe Privacy Policy is only valid for the PatientsLikeMe.com website. Once you visit another website, such as one of the offerings in The Hub, you are subject to that website's privacy policy.
Does PatientsLikeMe share your data with Hub partners?
No. PatientsLikeMe will never share your data without your consent. You can review the Privacy Policy here. However, note that once you move from the PatientsLikeMe site, your data may be collected by other parties and not protected by the PatientsLikeMe Privacy Policy.
Questions? Contact us.