"Doctor Visit Guide" is a feature that will help you prepare for your doctor's appointments by making it easy to communicate the health information that you track using PatientsLikeMe, while helping you identify and list questions you may want to ask them to get the care that works for you
We have launched this feature in our iOS app and it's available by searching 'PatientsLikeMe' on the app store. Once you have downloaded and opened the app, you can access it by clicking the 'Me' tab on the bottom of the page, then selecting 'Doctor Visit Guide'.
We are currently building the feature on our regular PatientsLikeMe website. We also are planning to build it for our Android app as well.
Click 'Create a new visit' and enter your Doctor's name:
Then, you can enter the date of your appointment....
'Who are you meeting with?' and 'When is the visit?' fields are mandatory.
...as well as record the location of your appointment: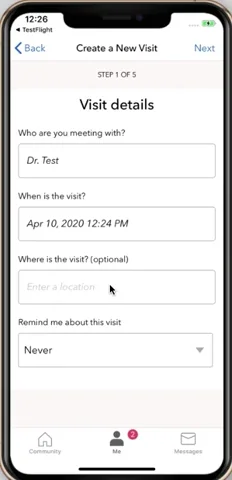 When you're done setting the reminder time and click 'next', click allow on the prompt to enable notifications, if it prompts you (if it doesn't, you have notifications already turned on):
This will enable a 'push' notification on your phone (similar to DailyMe notifications), reminding you of the upcoming visit.
The next page shows options you can check off and type reasons for the purpose of your visit. Check the appropriate boxes and write in the text where details are needed:
The next step allows you to go through the symptoms on your report - you can scroll through the list and uncheck any symptoms that you don't need to address.
Afterwards, on step 4, you can pick which treatments you want to mention. Note that these are the treatments linked to your treatment check-in on the app or the full site, not from the 'purpose of visit' form that was filled out previously. Either way, both entries will be on your final doctors report.
The final step before seeing your report allows you to write in and check off more specific questions. If you want, you can leave the text box blank and check off our pre-programmed questions.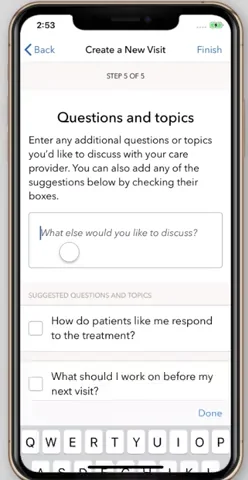 You can then see your full report - when you're done, you can click 'go to my profile' at the bottom of this page to get back to the rest of the app :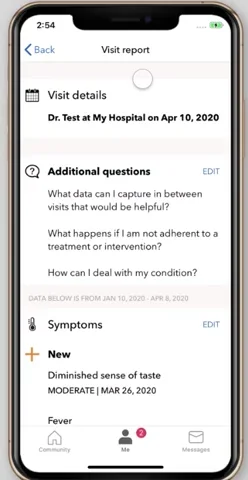 To access your existing visit records, you can click on either 'upcoming' or 'previous' on the main visit guide screen and edit specific information in your report.
Note if you choose something to edit, that to get back to the rest of the app, make sure you go through all steps, then scroll to the bottom of the last page and click 'go to my profile':